National Designated Authority (NDA) / Focal Point
for interaction with Green Climate Fund
The Green Climate Fund (GCF) (https://www.greenclimate.fund/) is the largest dedicated global fund established in 2010 by the decision of Conference of Parties (COP16) of the UN Framework Conference on Climate Change (UNFCCC), to help developing countries to reduce their greenhouse gas emissions and enhance their ability to respond to climate change. The GCF is headquartered in Songdo, Incheon City, Republic of Korea, where its operation started in December 2013.
The fund promotes a country ownership and country-driven approach, recognizing the importance of harmonizing and integrating funding priorities within the national strategies and plans of developing countries. Therefore, developing countries appoint a National Designated Authority (NDA) or a national focal point (NFP) that acts as the interface between their governments and the GCF.
Mongolia's NDA is the Ministry of Environment and Tourism (MET). The NDA is represented by the National Focal Point, Dr. Batjargal Zamba, who is the Special Envoy on Climate Change and UNFCCC Focal Point. Climate Change Project Implementing Unit (CCPIU) works as a Secretariat or support unit to the NDA/NFP, in facilitating and executing in-country operations in relation to the GCF activities.
Another important feature of the GCF is the deployment of resources which, channelled only through the accredited entities those meet various financial and environmental standards of the fund. As of May 2020 there are 97 accredited entities consist of private or public, non-governmental, sub-national, national, regional or international organizations. It means countries can access GCF resources by working with these accredited entities. In Mongolia, XacBank LLC and TDB LLC are accredited as the direct access entity for GCF.
Main roles and responsibilities of the NDA/Secretariat, include:
Implement in-country coordination activities,
Implement the GCF project cycle support ensuring the consistency of funding proposals from national, subnational, regional and international intermediaries and implementing entities with national plans and strategies,
Implement No-Objection procedures for the proposals seeking funds from the GCF,
Implement the GCF Country Programming procedures,
Facilitate communication with the GCF and other stakeholders.
.The Country Coordination Mechanism:
Country Coordination Group (CCG): compromises of specialists and experts from ministries, agencies, and institutions work in areas of climate change mitigation and adaptation – to ensure the country ownership and policy alignment by conducting technical reviews and assessments on any given GCF funding proposals as part of No-objection procedure,
Country Stakeholder Convention (CSC): regularly organize to promote the stakeholder engagement and ensure all relevant stakeholders in Mongolia are informed about the engagement and works of NDA of GCF carries out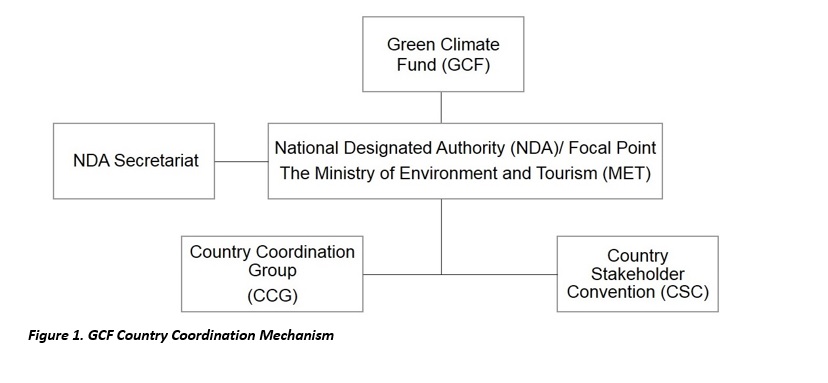 Dr. Batjargal Zamba
National Focal Point for the GCF
E-mail: [email protected], [email protected]
Work phone: +976 7000 0743
Address: Suite 203, Margad Center 8th Khoroo, Student Street, Ulaanbaatar, Mongolia
Ms. Chuluunkhuu Baatar
Carbon and Climate Finance Specialist, Climate Change Project Implementing Unit, Environment and Climate Fund
E-mail: [email protected], [email protected]
Work phone: +976 7000 0743
Address: Suite 203, Margad Center 8th Khoroo, Student Street, Ulaanbaatar, Mongolia
Ms. Anand Tsog
Climate Change Officer, Climate Change and International Cooperation Department of Ministry of Environment and Tourism
E-mail: [email protected]
Work phone: +976 51 263341
Address: Government Building II, United Nations Street 5/2, Ulaanbaatar, Mongolia